Introduction
Anyone that has been reading my posts or who has seen my videos about the Dandanator Mini from HobbyRetro will know straight away how excited I was about the technology, for such a small device it delivers a whole lot of functionality. It's a definite 'must have' for anyone who cares about Amstrad CPC's.
Please see my earlier blog posts (and video) about the Dandanator Mini.
Based on my knowledge about the various Dandanator products available for the CPC there are actually at least 4 Dandanator models available to buy from various sources:
Dandanator Mini (built in rom)
Dandanator Elite (rom is on a cartridge)
Dandanator Elite + (same as Elite but also supports DES in rear slot)
Dandanator DES (different hardware, different team)
If you wonder where the Dandanator name comes from, it's based on hardware designed by Dan Leon himself.
This blog post is about the Dandanator Elite + primarily so let's get stuck in.
I was browsing a Spanish Facebook group and came across some screenshots of a new Dandanator device called the Dandanator Elite +, I was intrigued, so I asked where to buy them and ordered one. I ordered mine from a Spanish website called Neotienda. It wasn't cheap, but there's a lot included.
First of all here is how it arrived after I removed it from the packaging.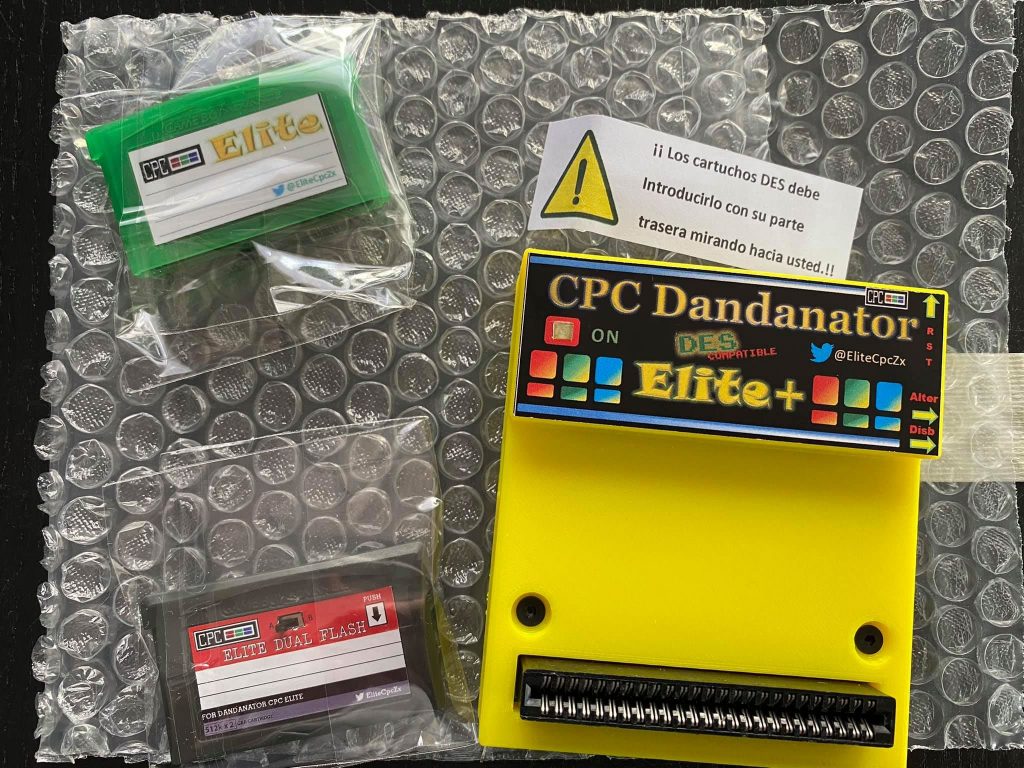 What you can see from the above photo is it was well packaged, and comes with 2 cartridges, one has a button on it (red cartridge)  which allows you to flip between 2x512k roms.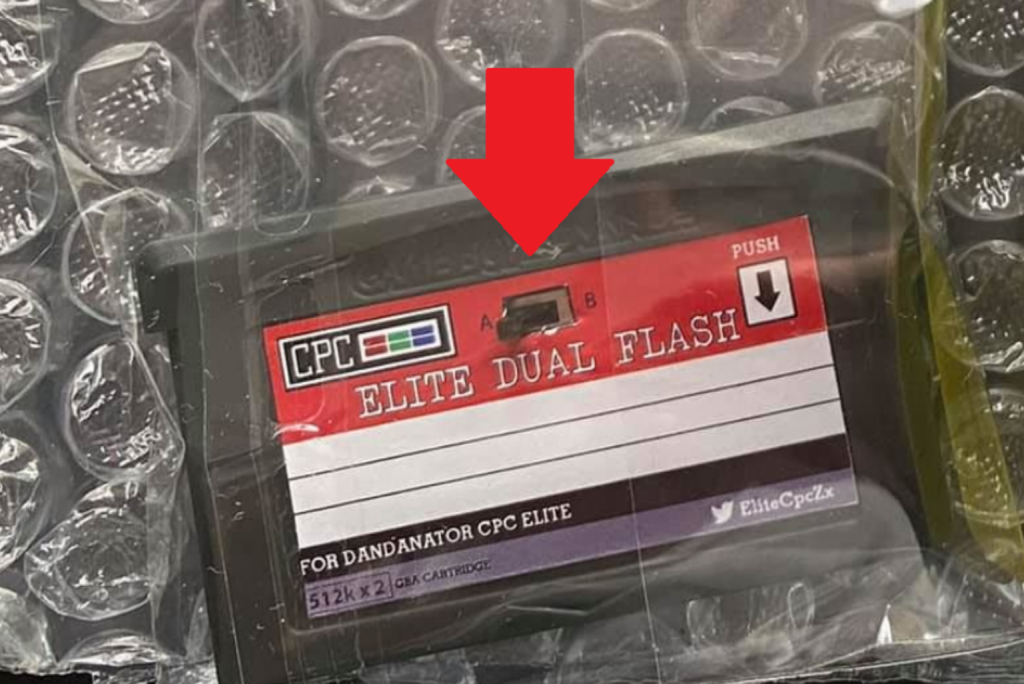 The other cartridge (green) is just one 512k rom.
This Dandanator has 2 slots. The rear slot is marked for DES cartridges. DES cartridges are not compatible with Elite cartridges. The DES (Dandanator Entertainment System) cartridge goes in the rear slot with the Elite cartridge in the front.
Note: To use the rear cartridge you'll need to order a separate DES compatible cartridge from these guys > https://auamstrad.es/hardware/dandanator-entertainment-system/
The paper warning translates to the following:
The DES cartridges should be inserted with their rear facing towards you.
But what I think it should really say is:
Only insert Elite cartridges front facing in the FIRST slot (marked Elite). The rear slot is only for DES cartridges. DES cartridges should be inserted with their rear facing towards you.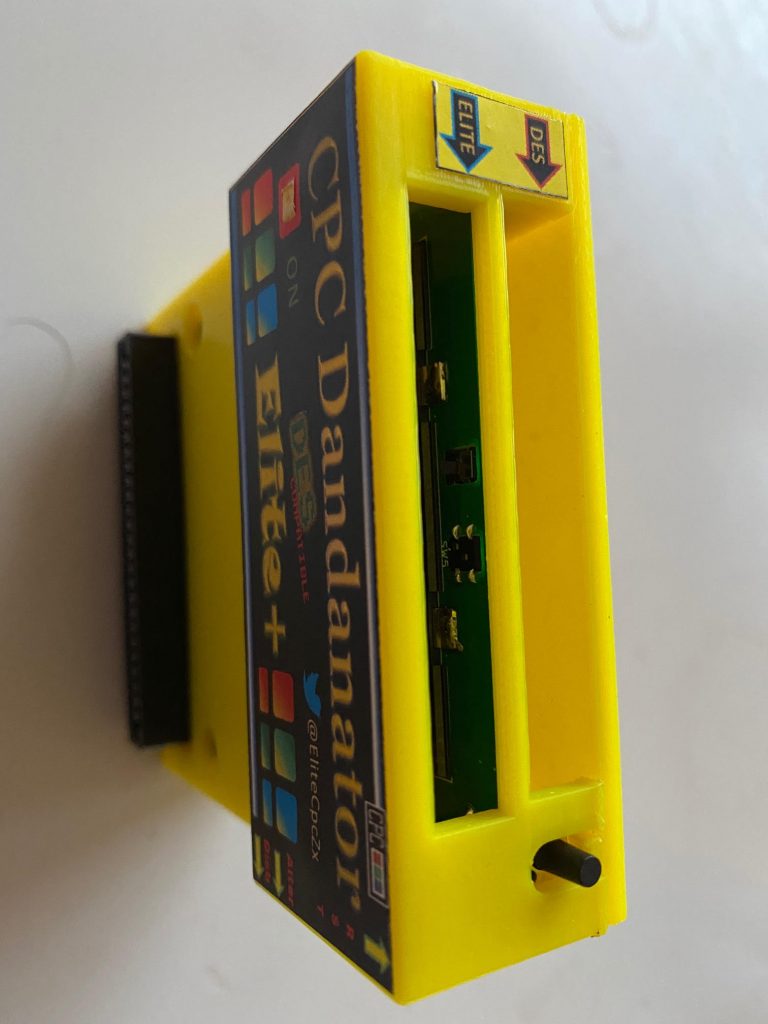 I can tell straight away that this device is stronger and heavier than the Dandanator mini, it feels very solid and well made with a really nicely 3d printed box. You can order your own chosen colour too. I picked the yellow one as I think it's looks cool !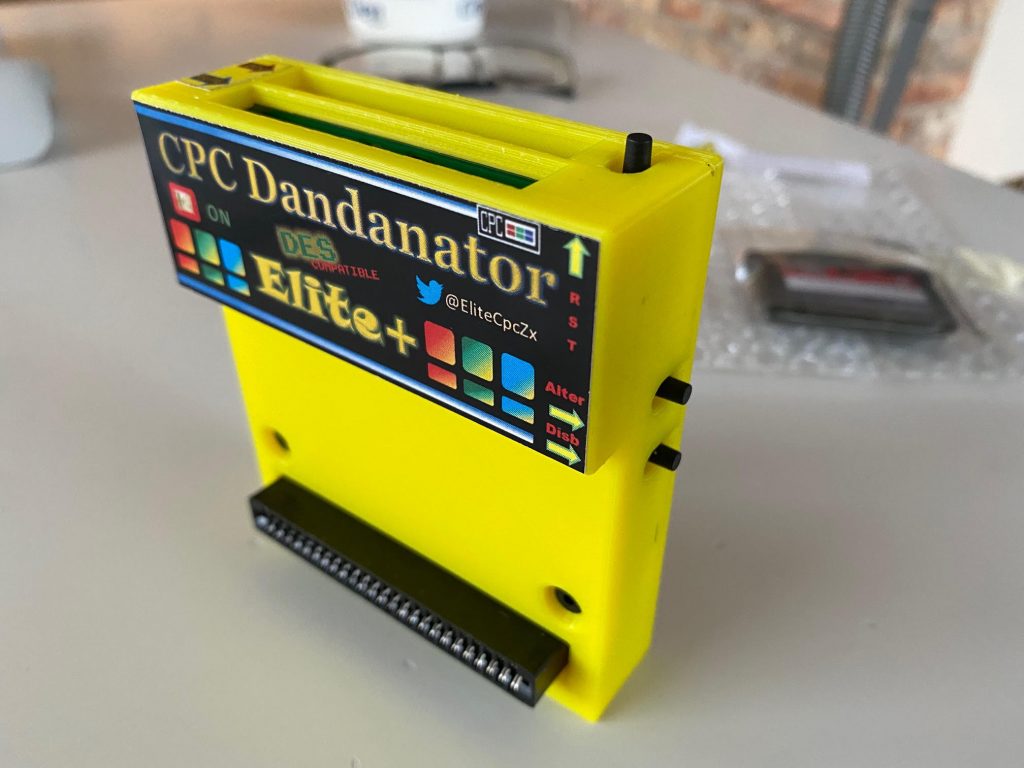 The front of the device has an edge connector to slide into the back of your CPC, it works with the CPC 464 and 6128 models although I'm not sure about + devices. To connect it to a CPC 664 you'll need a pass-through cable (or rom box) as physically it's NOT tall enough on it's own (the 664 is too tall).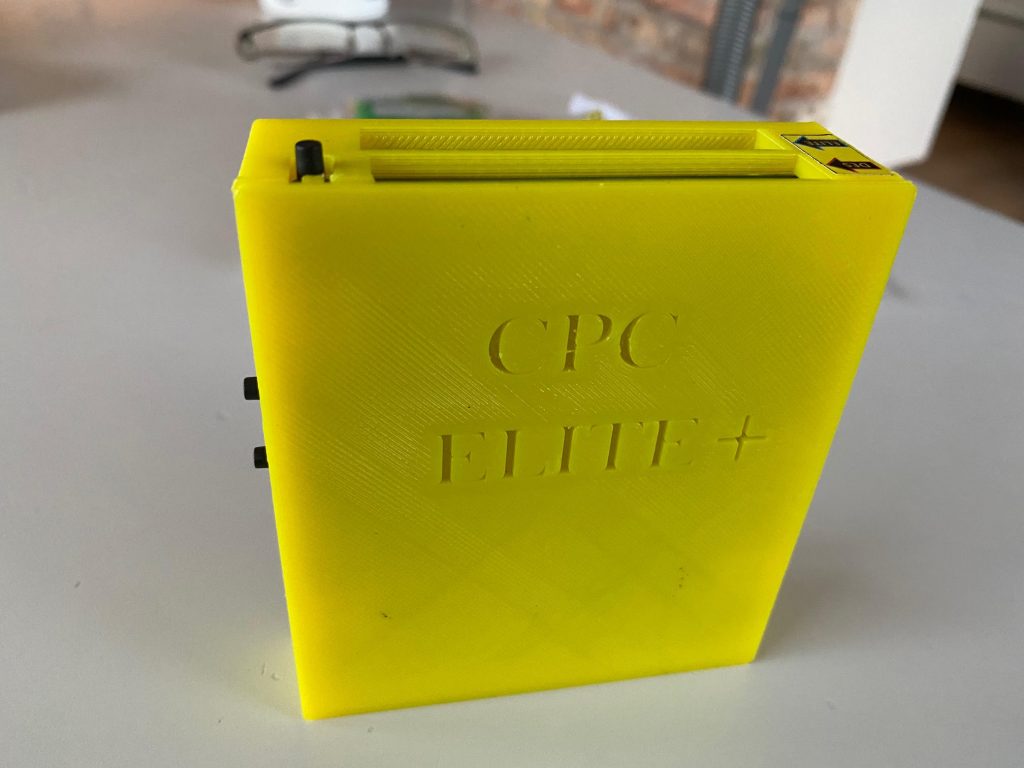 It didn't come with any specs or info so I emailed the seller and he very kindly pointed me to the Rancanuo team who I guess designed the Dandanator Elite and Elite +.
Here's what they say about their devices.
Dandanator CPC Elite+
Like the other two models we currently market (Dandanator cpc Elite and Dandanator zx Elite) are the same with respect to the technical characteristics of its precursor Dandanator mini, in that it uses practically the same electronic components and has the same functions.
Rancanuo Team has evolved the design to use Gameboy advance sp cartridges instead of having the ROM built in. This make's it quick to change cartridges and easy to change what you want to play. In principle we have two models, one with 512k on a single chip and one with two chips which are selectable by a jumper, allowing the device to work with twice as much memory.
First we developed the "Dandanator CPC Elite" with a design based on the Dandantor mini but with some improvements, especially regarding the manufacture, because even if the operation is the same, now, having interchangeable and collectible cartridges the user can purchase these cartridges so that they do not have to be continuously rewriting their romsets in the same memories.
This allows you to create your own collections of games in a more showy and professional way.
Technical characteristics common to the three models we have (CPC Elite, CPC Elite + and ZX Elite):
All equal to the precursor dandanato mini,.- Interchangeable cartridges with one or two memories of 512k each, selectable by jumper.
Cartridge detection switch that allows our cpc to start normally when it does not have cartridge inserted (the zx model does not carry it)..

Allows hot cartridge change (although not recommended).

3d housing design of high quality retro style..

Assembly in SMD, as I suppose you know, are surface mount components.
Cpc Elite+ model.
It also includes a port for cartridges of a similar development called DES

 

DES archivos – AUA (auamstrad.es)

, (they are not copies between them, they are two developments that emerged in parallel, perhaps that of AUA a little earlier, so we consider ethical adapting our device to the pinout of its cartridges).
As you can see, with regard to technical characteristics in its (functional) design there are not much differences, but in its assembly and its "vision of the future".
Here's an article about the team (in Spanish) Rancanuo Team – Retro Parla
If you want you can follow them @EliteCpcZx
And finally here you have the project released on github  Rancanuo/Dandanator-CPCElite- (github.com)
I'll follow up with a video soon show casing this device in action on one of my CPC's, stay tuned !
Buying a Dandanator
I don't have any affiliation with any of the sites below, if you do buy from them, do me a favor and tell them 'Niall from Amstrad-noob' sent you :-).
The price is 69 euros for the Elite + or 59 Euros for the Elite model, you can get them at Neotienda's website. The Dandanator CPC Elite + is compatible with all these computers CPC 464, 664, 6128, 464+
You can connect the Dandanator to the rear EDGE port without the need for adapters, however the 664 model requires a cable.You only need the Centronics adapter for the 6128 + computers and the 6128 German model that uses the Centronics port then you need this adapter.